---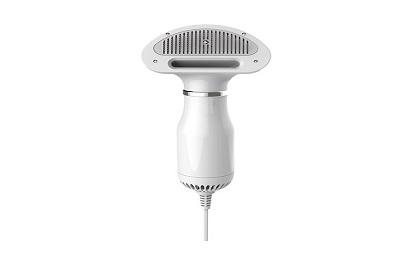 ---
The
2-in-1 Pet Hair Dryer Comb
is a great accessory for pet owners that can help keep the coat of your pet looking its best all the time. Its stainless steel comb and coated tips will not only dry your pet's hair but also help to shape it. The comb will also massage your pet's skin while drying its hair, which can help reduce the risk of sickness.
You can use this device on both cats and dogs. This model is made from stainless steel 304 and is very sturdy. It also features a streamlined design that makes it comfortable to use. The bottom filter is removable so that you can clean it easily. Unlike other hair dryers, this pet hair dryer comb will prevent your dog's fur from entering the device.
Besides using the dryer on your pet, you should also use a slicker brush. This will remove loose fur and tangles. A good quality dog hair dryer will also come with a slicker brush to help you keep your pet's coat looking its best. It will make grooming your pet a breeze! And, it will be more comfortable for you too because it comes with two temperature settings: high and low. The high temperature setting can dry your pet quickly. The low temperature setting will dry your pet gently and is not too warm.
Another great feature of this dryer is that it is designed to be whisper-quiet. This means that your pet won't be frightened by the sound. In addition, this dryer is lightweight, ergonomically designed, and portable.